Seasonal Delights
Mt. Tateyama has a different face for each season.Enjoy experiences that only a mountain has to offer, such as trekking, stargazing, autumn leave viewing, and more.Each trip offers a brand new experience.
springspring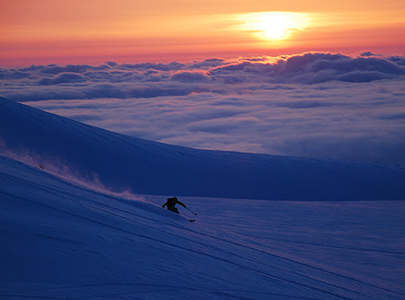 The ski season that continues past May.
Spring mountain skiing
April – May
Murodo is one of the world's top "snow countries," and the majority of the area is covered in snow during April and May. Even in June, some snow lingers. The best ways to enjoy this season snow shoe walks, backcountry skiing on the remaining snow, telemark skiing, cross country skiing, snowboarding, and more. This is one of the only places in Japan that you can still ski at after Golden Week.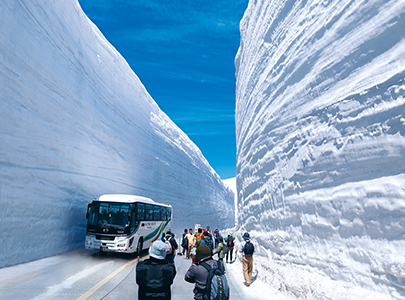 Walking through a 20 meter tall corridor of snow
Yuki-no-Otani Snow Corridor
April – June
Yuki-no-Otani Snow Corridor extends for 500 meters, and its entrance is located a mere 100 meters from Hotel Tateyama. Hotel Tateyama is the best hotel for tourists looking to travel the snow corridor.

*At Hotel Tateyama, our hotel staff offer 1 hour Yuki-no-Otani Snow Corridor tours from April 15 – June 30 every evening at 5 p.m. [Free participation, no reservation necessary]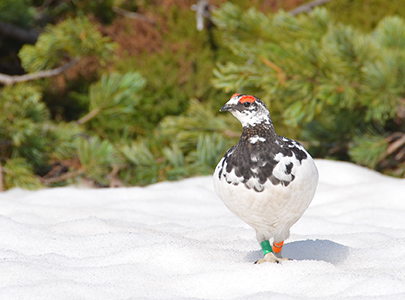 The best season for watching the Raicho (Ptarmigan), messenger of the gods. 90% encounter rate.
Raicho (Ptarmigan) Watching
Late May – June
The period from May to June is the season of love, or mating season, for the Raicho. It is also the season in which you are most likely to encounter one. The Raicho encounter rate for participants of the Hotel Tateyama Raicho Watching tour is over 90% (2017 reference).
Mt. Tateyama's Raicho are not very afraid of people. It is said that this is because they are traditionally known as messengers of the gods and were treated kindly throughout the ages. Approximately 3,000 Raicho inhabit Japan, with 250 – 300 birds inhabiting the 1070 ha of Murodo-daira, making it the country's most densely populated area for the bird.
summersummer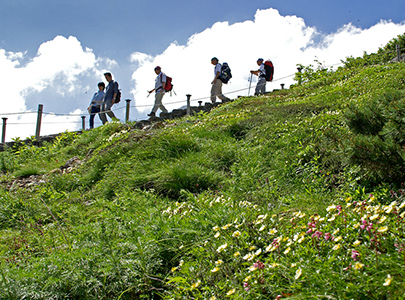 15 degrees below lowland temperature. A cloud top paradise.
Trekking/Plateau plants
July – Mid-September
The temperature is Murodo lowlands is 15 degrees below lowland temperature. In Murodo, surrounded by 3,000 m tall mountains, you can forget all about the heat and dryness from the world below. Experience the refreshing winds and deep jade lake of the Mikurigaike power spot and the plateau plants enjoying the short summer in full bloom.
This season is the best for sightseeing, mountain climbing, trekking, nature walks, and more.
The bustling Murodo-daira

The refreshing winds will help you forget all about the heat of the world below.

Mikurigaike power spot

Looking from this spot will reveal a heart shape.

The Geum pentapetalum represents Mt. Tateyama's plateau plants

Tengu-daira Level Path

This 2-kilometer long level walking path continues to Tengu-daira.

Mt. Tateyama Pilgrimage

Many people aim for the Mt. Oyama peak during this season when the snow still lingers.

Oyama Shrine

Oyama Shrine Mine Main Shrine is located on the peak of Mt. Oyama. Many people visit to pay their respects in the summer.
autumnautumn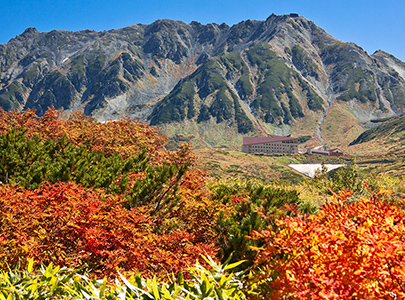 Enjoying early, enjoying for longer
Autumn leaves
Late September – October
The alpine route's autumn leaves are known for being able to be enjoyed early, and enjoyed for longer. In mid-September, the Nephrophyllidium becomes yellow, turning into autumn grass (kusamomiji). Murodo's autumn leaves look the most vibrant in late September. In this period, the hotel grounds are covered in a scarlet carpet of Geum pentapetalum. You can also see vibrant autumn Sorbus commixta at Raichozawa and Jodozawa. The season of autumn leaves ends in early Autumn up in Murodo, but spreads gradually down the alpine route, allowing you to enjoy the season until late October.
Autumn Nephrophyllidium(Mid-September)

Murodo, Jodozawa(Late September)

Dew on autumn Geum pentapetalum(Late September)
winterwinter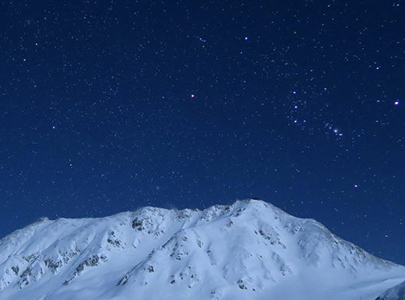 3000 stars in the night sky
Stargazing
Late October – Mid-November
Murodo's clear skies are free of city lights, making them optimal for stargazing. If the weather is good, then you can witness the Milky Way and countless other stars. Rumor has it there are 3000!
You can enjoy the starry all year round, but we recommend the season between late October – late November. The air is clearer due to low humidity, making it the best time of year for stargazing.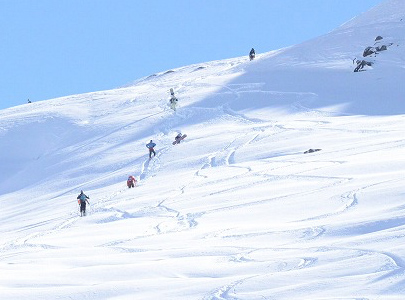 Fresh snow (backcountry skiing)
late November
Murodo allows you to enjoy fresh snow faster than any other place in Japan. We're visited by hoards of background skiers and snowboarders in search of fresh snow in late November. Enjoy quality powder snow while immersed in nature.
Seasonal Fun Calendar
April
May
June
July
August
September
October
November
Murodo average temperature

Highest




Lowest

3.7℃




-3.9℃

9.2℃




2.2℃

12.2℃




6.3℃

15.0℃




9.8℃

16.7℃




10.5℃

13.4℃




7.4℃

7.5℃




1.0℃

1.9℃




-4.6℃

Spring mountain skiing
Lingering snow
Yuki-no-Otani Snow Corridor
Raicho (Ptarmigan) Watching
Trekking
Plateau plants
Autumn leaves

Non-Murodo

Stargazing

Recommended

Fresh snow