Other
CTateyama Mountain Top Branch Post Office
Opening Period
May 1 – November 5
Opening Hours
9:30~14:00
Place
Murodo Terminal 1F
Services
- Accepting mail
- Sale of stamps and postage
- Commemorative landscape postmark (stamp includes date)

Other
ETateyama Nature Conservation Center
Located next to Murodo Terminal, the Center displays replicas and descriptions of rare animals and plants living around Murodo-daira and provides field information.
The Center also holds nature tours held by naturalists. They are great for learning about nature, or spending time during bad weather. During the end of the season, a second Snow Corridor links the rooftop viewing platform and the Nature Conservation Center. This Snow Corridor is just as high as the Yuki-no-Otani Snow Corridor, and is sure to entertain.
View the Tateyama Nature Conservation Center website for more details.
Tateyama Nature Conservation Center PHONE/076-463-5401
| | |
| --- | --- |
| Opening Period | April 15 – November 15 |
| Opening Hours | (8:00 a.m. to 5:00 p.m. from July 16 – August 31, 9:00 a.m. to 4:00 p.m. from November 5) |
| Place | Next to Murodo Terminal (there is a connecting walkway) |
| Rates | Free entry |
Other
MCommemorative Photo Service
You can have a commemorative photo taken at the Murodo Terminal rooftop viewing platform.Make your group or family's memories of the alpine route last forever.
Rates
Group Digital A5 size (w/ special photo holder) 1,300 yen〜
(Large groups will need a prior reservation.)
Single 2L size (w/ special photo holder) 1,300 yen〜
Locales
Murodo Terminal Rooftop Viewing Platform
Take a commemorative photo with your back to Tateyama Mountain Range and the clear blue sky.
Opening Period
April 15 – Mid-November(Dates pending)
Opening Hours
8:30AM〜4:30PM
*Service will be provided even outside of normal operating hours to those who reserve in advance.
Reservation · Inquiries
Hotel Tateyama Photography Club
TEL/076-463-4098
FAX/076-463-4041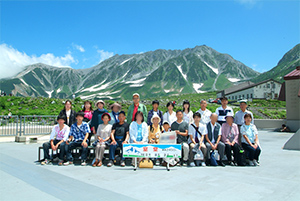 Kurobedaira Station Park
Take a commemorative photo amidst the autumn leaves with your back to Tambo-daira.
| | |
| --- | --- |
| Opening Period | Not available in 2021. |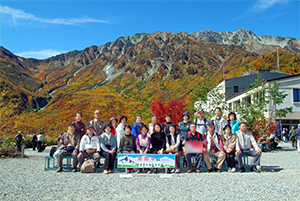 Other
LRooftop Viewing Platform
There is a viewing platform located on the roof of Murodo Terminal.It doubles as the entrance to Murodo-daira.Head to the viewing platform to access Murodo Plateau, Mt. Oyama, or Mikurigaike.
The path to Murodo-daira begins here.

100 meters from Murodo Terminal is the entrance to Yuki-no-Otani Snow Corridor (April – May)

A prime spot to view the sunset from in the evening.
Other
NTateyama Tamadono Spring Water Drinking Area
Late June – Mid-November
Tateyama Tamadono Spring Water comes from the fault-crushing belt in the Tateyama Tunnel traveled by the trolleybus, and has been chosen as one of Japan's Top 100 Spring Waters.The spring water comes from snow on Mt. Tateyama that has seeped into the sacred mountain's strata and has been filtered by Mother Nature for many years.There is a drinking area for Tateyama Tamadono Spring Water right next to Murodo Terminal.The water gushes out from late June to mid-November, and has quenched the thirst of many mountain climbers and tourists alike.
No other spring water in Japan comes from 2,450 meters above sea level, meaning that Murodo-daira is the highest source of water sold in Japan.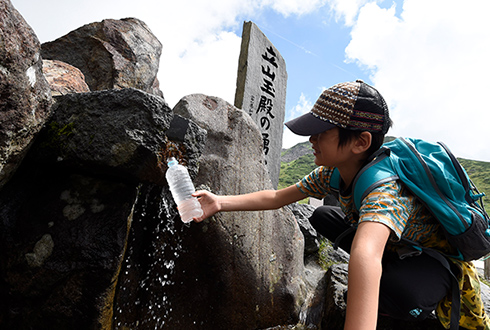 Other
OOyama Shrine Mine Main Shrine Former Shrine Exhibit Room
In 1995, the Oyama Shrine Mine Main Shrine Former Shrine was restored for the first time in 135 years, and it is now displayed on the third floor of Murodo Terminal.
When the weather is good, you can view the current Main Shrine on the Mt. Oyama peak from the window of the exhibit room.
| | |
| --- | --- |
| Opening Hours | 8:00AM〜4:00PM |
| Rates | Free entry |