Facilities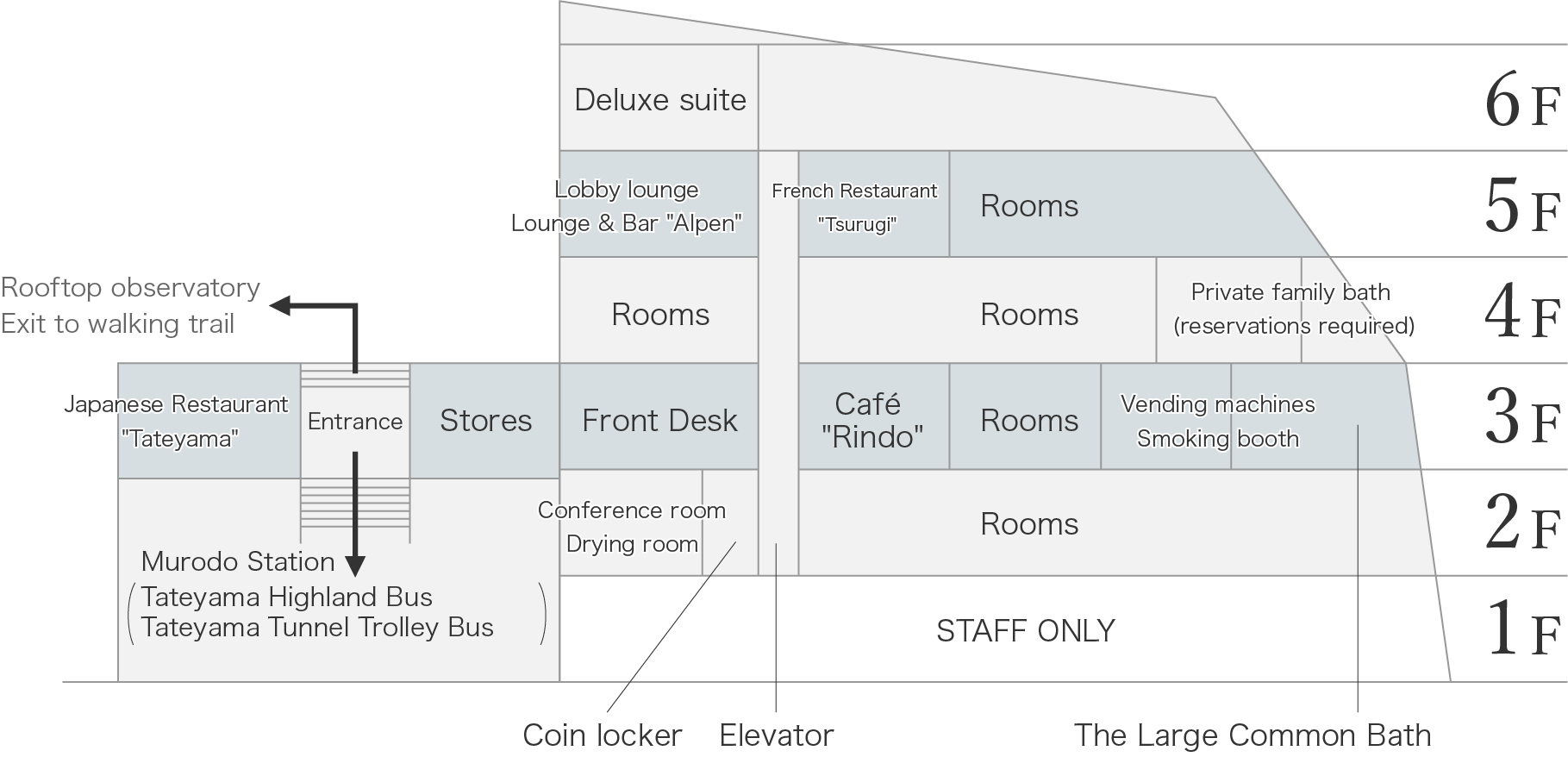 3F
Front Desk
The Hotel Tateyama entrance is located right up the staircase from Murodo Station. The front desk is immediately accessible from the entrance, and there is plenty of place to put down your baggage.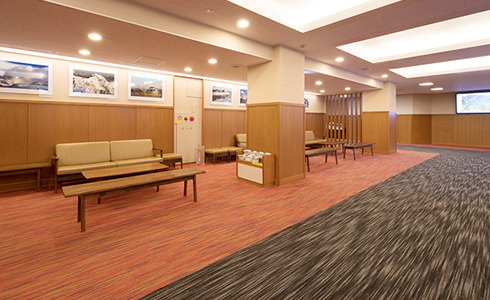 5F
Lobby lounge
Do you want to get away from the hustle and bustle of the city and let your stress simply float away? Make it happen at Hotel Tateyama.Mt. Tateyama is a place where you can spend a comforting time relaxing in the great outdoors.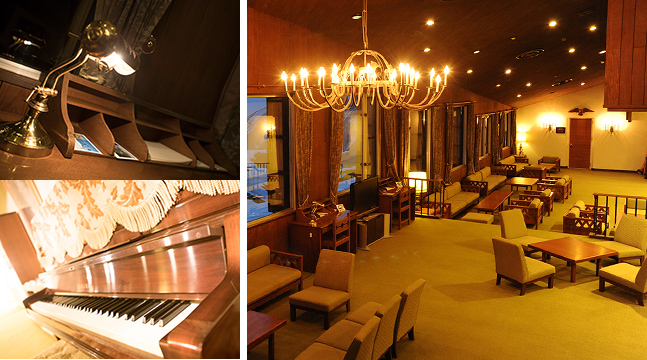 3F
The Large Common Bath
Take a look out the window to find yourself above the clouds in a whole new world.
Our baths use Tateyama spring water to heal your mind and body of all fatigue.
From mid-June to November, you can bathe in Tateyama Tamadono Spring Water, one of Japan's Top 100 Famous Spring Waters.
Bathing time
6:00AM~9:00AM、3:00PM~11:00PM
Capacity
Male: 15, Female: 15
About usage
- Please bring the towel/bath towel from your room when using the bath.
- The bath is closed outside of opening hours for cleaning.
- The bath is only available for Hotel Tateyama guests.
- Spring water from a different source is used while Tateyama Tamadono Spring Water is unavailable.
Bath Amenities
For men
Shampoo, hair rinse, body soap, razor, cotton swab, hair tonic, hair liquid,
shaving lotion, hair brush, hair dryer, lockers


For women
Shampoo, hair rinse, body soap, milky lotion, lotion, cleansing lotion, cotton swabs, hair brush,
hair dryer, lockers

*You can rent a hair dryer for free from the front desk.
3F
Laundry (by reservation)
For extended stays, please take advantage of it to wash clothes after a stroll.
Location
Vending machine corner (in front of the 3F large public bath)
How to Book
Reservations are handled at the front desk.
Available Hours
7:00AM to 11:00 PM (closing time)
Using the Laundry
- You can use the washing machines and dryers for 1 hour 30 minutes.
- Please visit the front desk before using the laundry.
- Laundry Detergent (1 load) You will be given the In Use card at the front desk. Please return the In Use card when you are finished.
- If you wish to use a laundry net, they are sold at the front desk for ¥200.
- We do not assume any responsibility for the discoloration or loss of items when using the washing machines or dryers. Thank you for your understanding.
4F
Private family bath(Shakunage, Mizubasho)
These baths can be reserved for your family. (Reservations required)Popular with families and foreigners.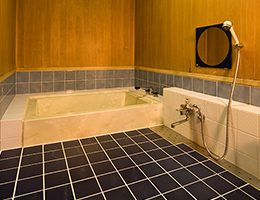 Bathing time
15:00~22:00
Capacity
Shakunage, Mizubasho 4 persons
About usage
- Free rental, advanced reservation required (1 hour rental)
- Baths are self-service. Please fill the bathtub with hot water and drain it after use.
- These are not hot spring (onsen) or open-air baths. There are no windows.
- Please bring the towel/bath towel from your room when using the bath.