Important Points for Your Stay
Please read the following before your stay.
Hotel Tateyama is a built in a unique location that is 2,450 m above sea level.As the air pressure is low and the air thin, even healthy individuals may show symptoms of altitude sickness.
Those with heart disease, high blood pressure and other chronic conditions as well as pregnant women and parents that plan to bring young children should take special care. Please discuss with your doctor and take health precautions before visiting us.
If you take medication regularly, please do not forget to bring it with you.
If your condition worsens, the hotel will do what it can to assist you. However, we do not have a doctor or an ambulance on site. It will take time for emergency medical assistance to arrive.
All rooms are non-smoking.[Smoking Areas] *For Hotel Tateyama guests
- Smoking area (3F large public bath)
Hotel Tateyama is inaccessible by car.
Personal vehicles are not permitted on the route between the Tateyama and Ogizawa stations of the Tateyama Kurobe Alpine Route.
If you are visiting from the Tateyama side, please park your car at Tateyama Station and ride the cable car.
If you are visiting from the Shinano Omachi side, please park your car at Ogizawa Station and take the Kanden Tunnel Trolley Bus.
Package Delivery & Luggage Forwarding
Sending your baggage to Hotel Tateyama by mail
Tateyama Kurobe Alpine Route is not part of the domestic mail route,(postal workers cannot drive here)so please send your baggage to the address below(all mailing services can be used).
*Outside of the round-trip delivery region
Applicable Period
For guests staying between April 15 – November 29th
Service may not be offered during the snowy November season due to road conditions. Please contact us first.
Snow removal and road conditions may affect the date and time of the delivery of your baggage.Send your baggage no later than 4 days before your stay.
Contact the Hotel Tateyama front desk(PHONE: 076-463-3345) for all inquiries.
Important Points
When sending your luggage, be sure to write the following on the notes section or the blank space of your luggage.
1. Name of guest who made the reservation (For organizations, use the organization name. For groups, use the name of the group representative.)
2. Date(s) of your hotel stay
3. Luggage count
Tateyama Kurobe Service Co., Ltd. does not any take inquiries regarding service.
Sending Packages from the Hotel
Deliveries (via Yu-Pack parcels) accepted at Hotel Tateyama Shop.
Accepted through the morning of November 20th.
For other questions,please contact Hotel Tateyama front desk (TEL: 076-463-3345)
Baggage Forwarding Service
We offer a same-day forwarding service for your baggage so that you can enjoy the alpine route with your hands free.
Safely forward your baggage from Murodo Terminal to your destination (e.g., Unazuki Onsen, Omachi Onsen, Tateyama Station, Ogizawa Station), or back to Murodo Terminal from where you are, and receive it on the same day, guaranteed.
| | |
| --- | --- |
| Service Period | Service will be discontinued in 2021. |
| Alpine Porter Service | PHONE:076-464-1788 |
Visit the Tateyama Kurobe Service Co., Ltd. Website for further details.
Natural Environment
Atmospheric pressure of 760 hPa (average value for Murodo)
The atmospheric pressure down on level land is 1,013 hPa, meaning that Murodo's pressure is only 3/4 of that at sea level.This is why the potato chip bags in this picture look like inflated balloons.The air up here is thin, so you may find yourself running out of breath when climbing stairs or exerting yourself. Take your time, and move slowly.
Because the atmospheric pressure is low, boiled water can only reach 92 degrees Celsius.You cannot make delicious rice using normal methods no matter how long you cook it here, which is why our hotel uses a special pressure cooker.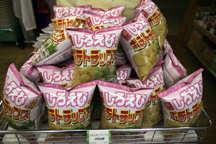 Temperature and snow depth
The temperature in Murodo is 15 degrees Celsius lower than that at sea level. When it is 35 degrees Celsius in summer at sea level, it is only 20 degrees Celsius at Murodo, which feels more like springtime weather.Murodo has an average snow depth of 7–8 meters, and our snowdrifts can be 20 meters deep.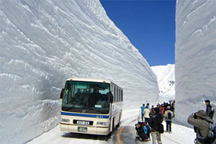 Average temperature at Murodo-daira
*Average value from 2011 to 2020
Date
Low
temperature
High
temperature
April Early
-6.2 ℃
6.5 ℃
April Mid
-4.9 ℃
5.3 ℃
April Late
-1.8 ℃
6.3 ℃
May Early
-0.1 ℃
8.0 ℃
May Mid
2.7 ℃
10.3 ℃
May Late
4.6 ℃
11.8 ℃
June Early
5.3 ℃
12.9 ℃
June Mid
6.6 ℃
13.1 ℃
June Late
7.9 ℃
13.9 ℃
July Early
9.8 ℃
14.8 ℃
July Mid
11.1 ℃
16.7 ℃
July Late
12.0 ℃
17.5 ℃
Date
Low
temperature
High
temperature
August Early
12.7 ℃
19.4 ℃
August Mid
12.3 ℃
18.3 ℃
August Late
11.7 ℃
16.9 ℃
September Early
10.4 ℃
16.1 ℃
September Mid
8.7 ℃
15.1 ℃
September Late
6.9 ℃
13.9 ℃
October Early
4.8 ℃
11.7 ℃
October Mid
2.4 ℃
9.3 ℃
October Late
0.2 ℃
7.3 ℃
November Early
-2.1 ℃
4.7 ℃
November Mid
-4.8 ℃
2.0 ℃
November Late
-7.1 ℃
-0.3 ℃
The growth of plateau plants: 1 step costs 10 years
These mountainous plants live in harsh conditions, and once stepped on, can take a minimum of 10 years to regrow.The Geum pentapetalum of the rose family takes 30 years to grow to the size of a matchstick.The Pinus pumila also takes 30 years to grow to a diameter of only 10 centimeters.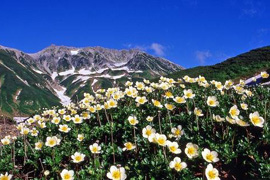 Raicho (Ptarmigan), the special natural monument
The Raicho is the prefectural bird of Toyama and one of Japan's special natural monuments.It is the only bird in Japan that lives on high mountains in the winter.The Raicho came to Japan during the Ice Age 20,000 years ago.The majority of the birds migrated to the cold north when the Earth warmed up, but a small population remained on Japan's high mountains, making the Raicho an Ice Age relict.
Approximately 3,000 Raicho inhabit Japan, with 250 – 300 birds inhabiting the 1070 ha of Murodo-daira, making it the country's most densely populated area for the bird.
Mt. Tateyama's Raicho are not very afraid of people. It is said that this is because they are traditionallyknown as messengers of the gods and were treated kindly throughout the ages. 's most densely populated area for the bird.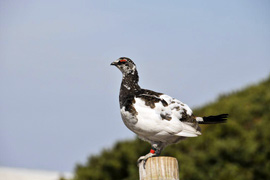 Mt. Tateyama's glacier
Yamasaki Cirque, a cirque valley created by long-term Ice Age erosion, can be found on Mt. Tateyama's west side.It is named after geographer Naomasa Yamasaki who discovered it in 1905 as evidence of Japan once having glaciers.It is one of Japan's special natural monuments.
In recent years, Japan's first recognized existing glacier was discovered on Mt. Tateyama. A chunk of ice in the snowy valley on the south side of Mt. Oyama was discovered by GPS satellites to be a slow-moving glacier. Until recently, the glaciers on Russia's Kamchatka Peninsula were considered to be the world's southernmost glaciers, but that title now belongs to Mt. Tateyama's.
Nature conservation and Hotel Tateyama
Building characteristics
Hotel Tateyama is located in the Special Protection Area of the Chubu-Sangaku National Park, and was built adhering to the strict regulations pertaining to building location, size, height, exterior, and other factors to preserve the natural scenery.
Construction began in 1968, and extreme difficulty was experienced during the process.After four years, Hotel Tateyama was completed on September 1, 1972.The cost of construction was three times that of a normal hotel.
The building contains many thick pillars measuring over 10 meters to withstand snowfall. The outer walls contain many reinforced iron bars, and are much thicker than walls found in buildings at sea level.In order to prevent condensation building up from the extreme temperature difference inside and outside of the building, the inner rooms are built leaving a 30 centimeter space away from the outer concrete walls.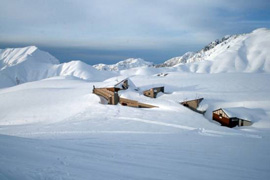 Management
ElectricityElectricity is delivered to Hotel Tateyama by the Chuo Denryoku Kita-omachi Transformer Substation which sends the electricity via power line to Ogizawa. It then traverses the Kansai Electric Tunnel to reach Hokuriku Denryoku Kurobe Gozen Transformer Substation, where it takes the Tateyama Tunnel to arrive at Murodo.
WaterThe water used at Hotel Tateyama is Tateyama Tamadono Spring Water, sourced from the fault crushing belt in Tateyama Tunnel.The water contains a suitable amount of minerals, is preserved at around 4 degrees Celsius, and was chosen as one of the Top 100 Famous Spring Waters by the Ministry of the Environment. It is truly the miracle water of Mt. Tateyama.The mountain freezes over from winter to spring, making the spring water unavailable until it melts in late June. During the period, we use spring water from a separate source in Jigokudani.This is why we cannot offer Tateyama Tamadono Spring Water in the baths of all rooms at Hotel Tateyama.
HeatingThe central heating is on year-round, except during the 40 days of midsummer. Even when Hotel Tateyama is closed during the winter, rooms are kept at 5 degrees Celsius to prevent damage caused by the cold.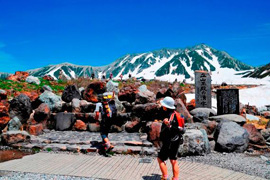 Caring for the environment
In order to keep the environment free of wastewater as much as possible, some of the utensils used at Hotel Tateyama are not washed here, but instead sent to our company's dishwashing center at the foot of the mountain.Hotel Tateyama is also equipped with a combination water treatment basin for the purpose of releasing wastewater in a natural-like state.
Ingredients used in food at Hotel Tateyama are processed at our distribution center at the foot of the mountain so that we produce very little raw garbage when cooking on the mountain.
The small amount of raw garbage that is produced here is sent to a garbage compaction and drying facility to be compressed, and it is then not burnt, but sent to a public facility off of the mountain for processing.
Take part in our Consecutive Stay No Cleaning Service

Hotel Tateyama is built at the altitude of 2,450 m, inside the Chubu Mountain National Park.We ask guests staying at Hotel Tateyama for two nights or more to help us lower our effect on the environment and reduce waste by taking part in our Consecutive Stay No Cleaning Service.

Thank for you understanding and joining us to protect the Mt. Tateyama environment for future generations.

Please inform the front desk if you do not wish to have your room cleaned or amenities replaced.